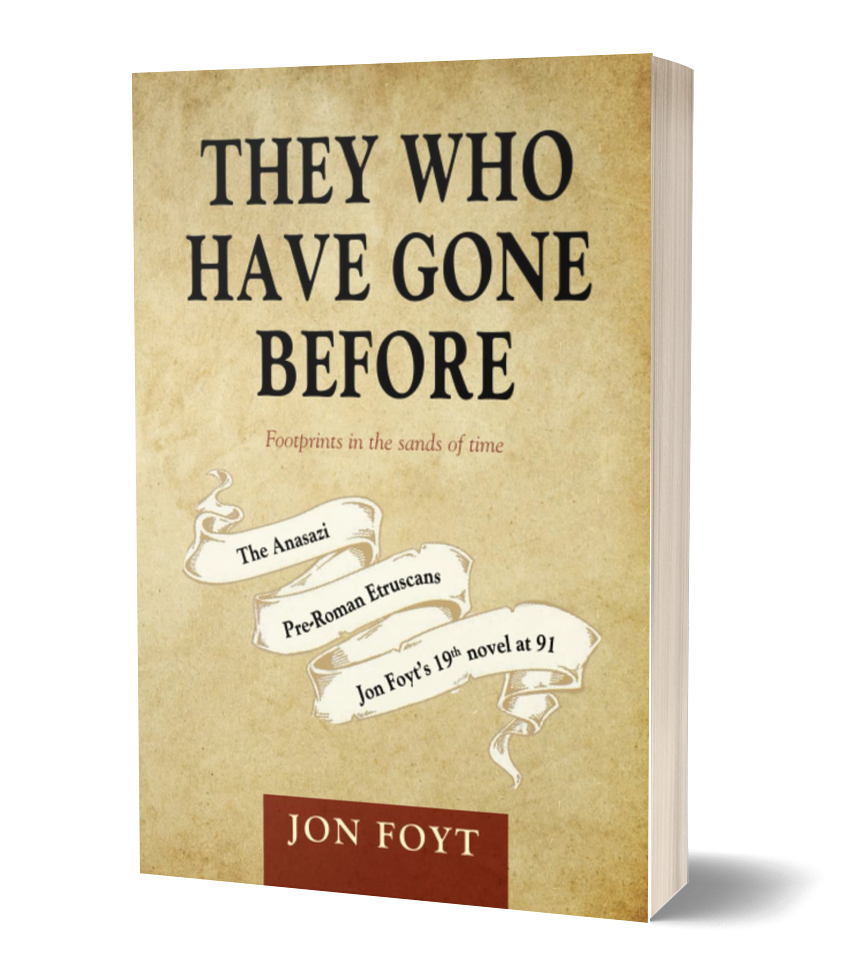 Latest release:
Retirement
Living It and Writing About It
This writing, offering among other things, some fictionalized stories, most based on actual events, addresses some of the diverse thoughts, emotions, and viewpoints accompanying aging, as well as thoughts on retirement and reflections on lifestyles.
↩ Back to view all books
---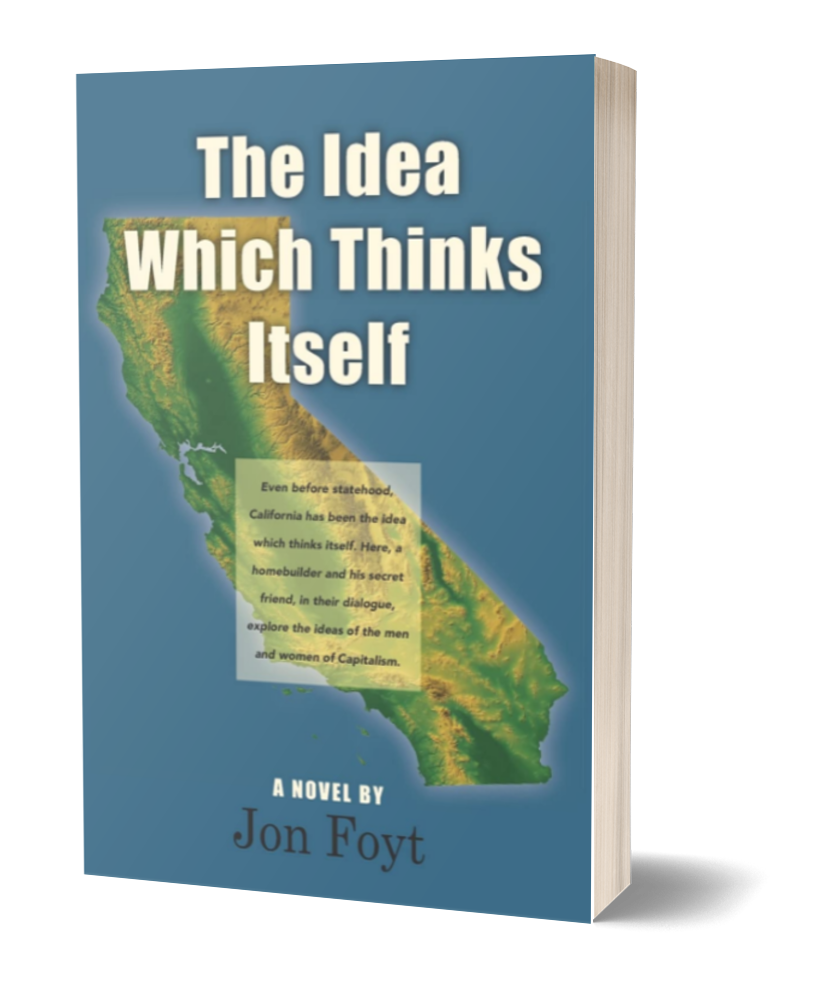 The Idea Which Thinks Itself
The Idea Which Thinks Itself is avant-garde fiction about one man's true self as influenced by his imaginary friend. Set in the Great Central Valley of California, the author meets local businessmen who prosper and young women who challenge the system which they say is dominated by Old White Men.
↩ Back to view all books
---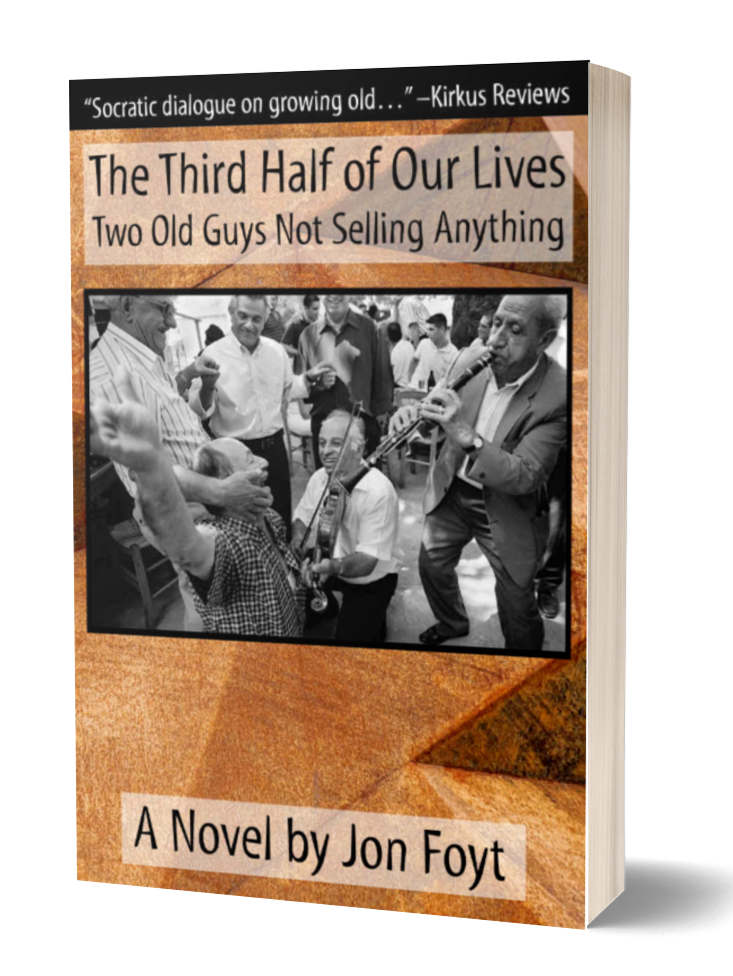 The Third Half of Our Lives
From Kirkus Reviews:Two men reflect on what went right and wrong during their long lives in this novel. Socratic dialogue on growing very old. These two men of the Silent Generation might not confront any of the really intriguing issues—from their white maleness to the sex lives of octogenarians—but they do hit the classics: parenthood, accomplishments, and the point of it all. A philosophical tale about two men in old age.
•
"…the perfect book for me to read in my oldest age." —Maxine Hong Kingston
The Third Half of Our Lives was nominated for the National Book Award in Fiction.
↩ Back to view all books
---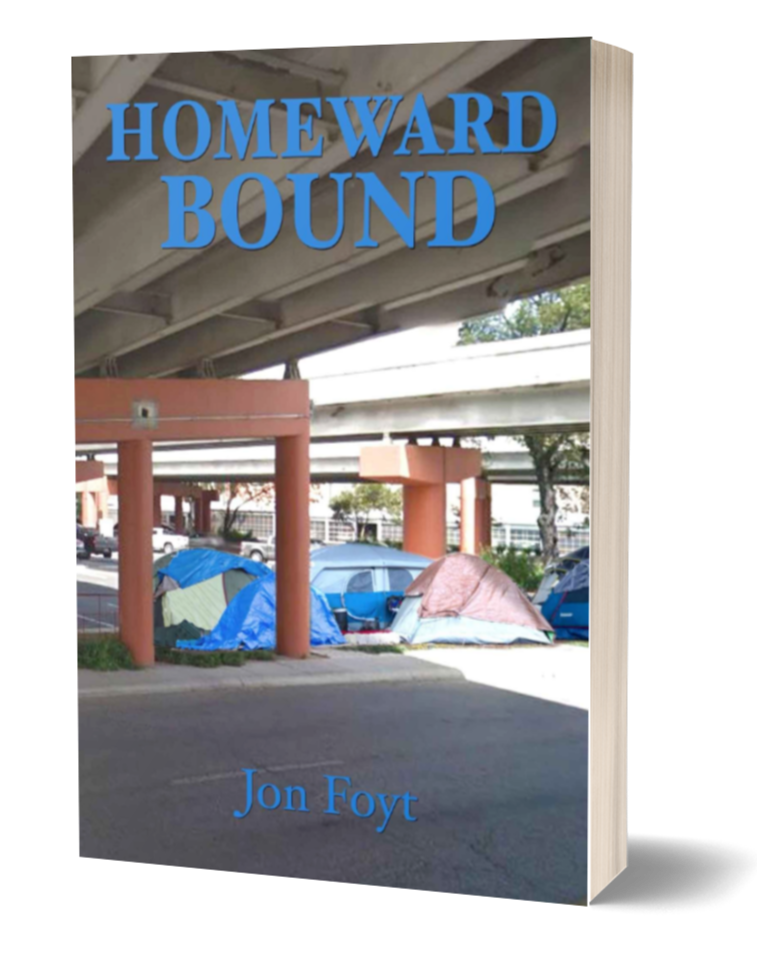 Homeward Bound
But what if there is no home?Historical researcher and novelist, Jon Foyt, has been active in all facets of real estate: from designer, developer, and contractor to lender, borrower, title researcher, broker, and homeowner. Employing his extensive knowledge, experience, and skills, Foyt explores the homeless problem in a fictionalized Bay Area, visualizing a unique solution involving General Santa Anna's Land Grant to the leader of the Mexican War Irish Brigade, the Los Patricios.Part of the Retirement Life collection by Jon Foyt.
•
"In his ambitious novel, Foyt imaginatively conjures a historical timeline that looks at the vacillating claims to the land, provocatively raising questions about the very nature of ownership. And he offers vivid period details and a wide-ranging cast of characters in his complex tapestry." —Kirkus Reviews
↩ Back to view all books
---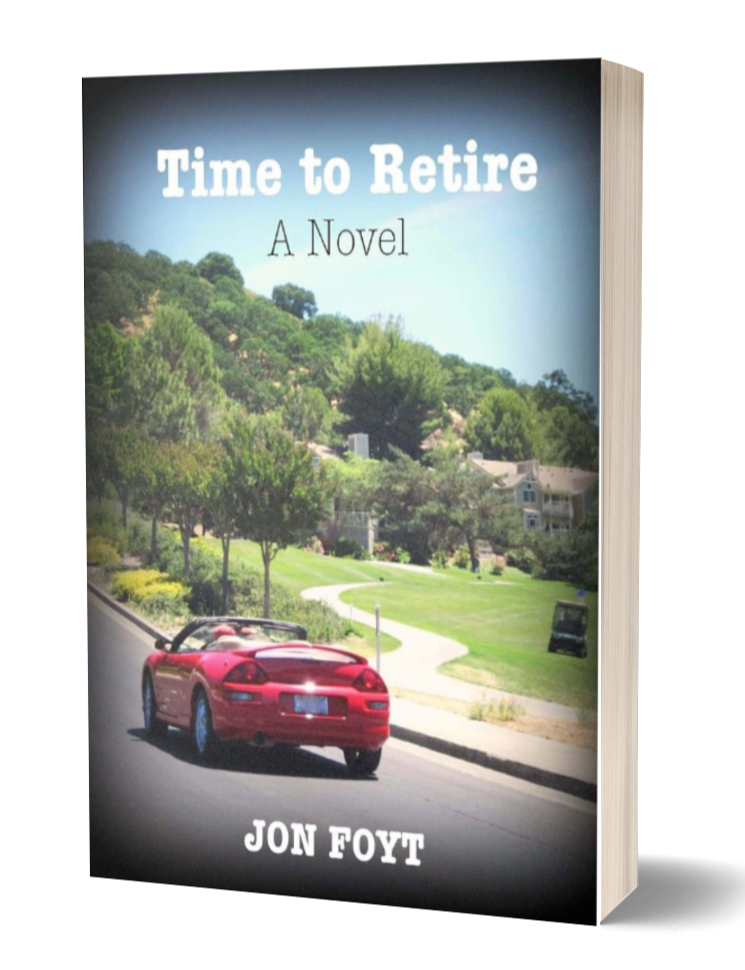 Time to Retire
Mystery and Romance abound in this novel set in an active adult retirement community. Follow local reporters, Willy (himself nearing retirement) and Sally, as they investigate the suicide of a prominent resident and the lifestyles of aging retirees.Part of the Retirement Life collection by Jon Foyt.
•
"A riveting and entertaining narrative that reads like a mystery novel." —Rossmoor News
↩ Back to view all books
---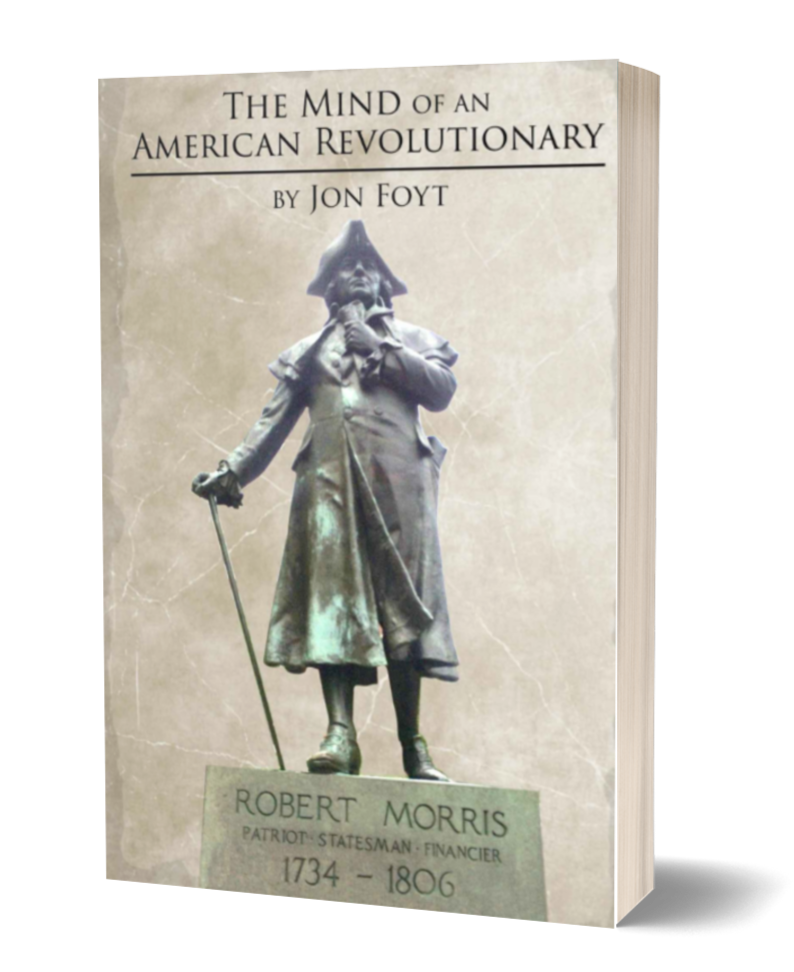 The Mind of an American Revolutionary
Why would an immigrant lad from off the docks of Liverpool, one Robert Morris, pay for critical portions of the American Revolution out of his own pocket, while helping found the first ever bank in the Colonies, and then end up in debtor's prison? Just ask his Bavarian talk therapist, a surgeon in the Hessian Mercenary Army who gets into Morris' complex mind.
•
"An ambitious interpretation of an intriguing figure that should appeal to historical-fiction enthusiasts." —Kirkus Reviews
↩ Back to view all books
---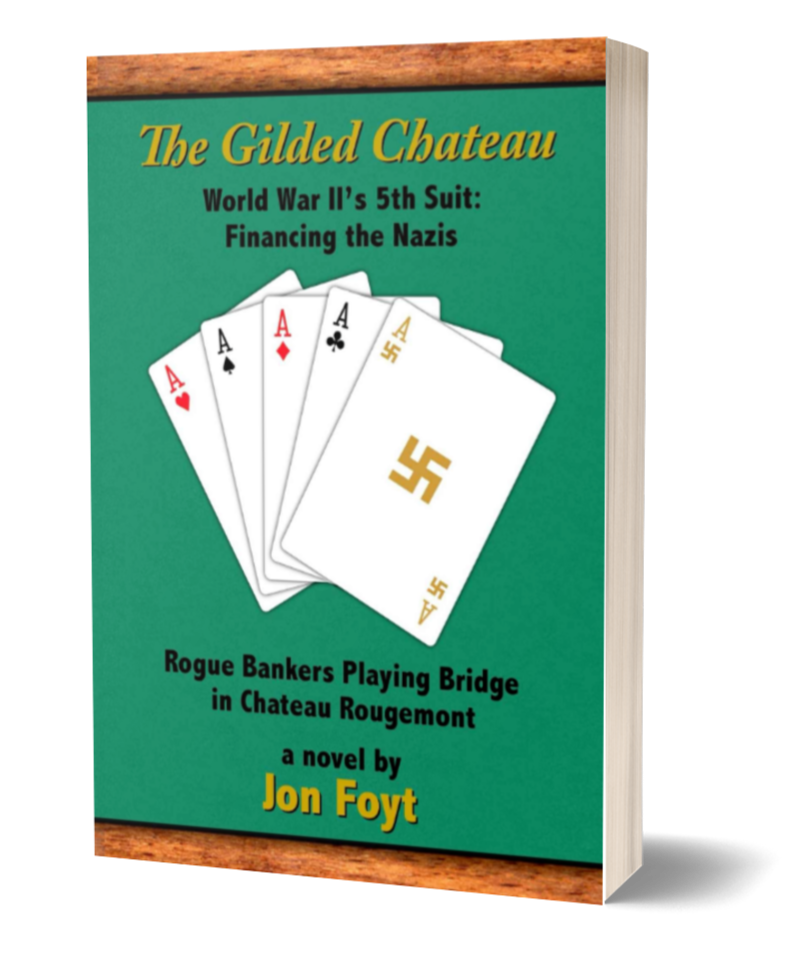 The Gilded Chateau:
World War II's 5th Suit: Financing the Nazis
Sara Vogel, a student loan-strapped PhD candidate, seeks fulfilling, remunerative work in her chosen field, World History. Her advisor, Professor Skip Kincaid, now in declining health, urges Sara to continue his research on how and why wars are financed, with specific focus on World War II. For personal reasons, Sara initially resists. But when a Think Tank in Geneva offers to fund and publish her dissertation in book form, she relents and accepts their proposal.Arriving in the Swiss Alps at the centuries-old Chateau Rougemont, Sara finds herself remarkably transported back in time to events that occurred there some 75 years earlier. Does she share her parents' clairvoyant traits? How else to explain the appearance of an American pilot - her family's former neighbor - reportedly downed by Nazi gunfire? Or the unforgettable sight of fields being covered by falling "red snow"?Pursuing clues revealed in a chateau servant's diary, Sara unravels an incredible tale involving central bankers, the Bank for International Settlements, and shipments of gold among warring nations, notably to Nazi Germany. Incredibly, those very bankers-at war with one another by day-socialize together on wildflower hikes in Alpine meadows and over games of bridge in the chateau.
•
"...an intriguing and thoughtful exploration of another side of warfare. A captivating tale of historical research and family secrets." —Kirkus Reviews
↩ Back to view all books
---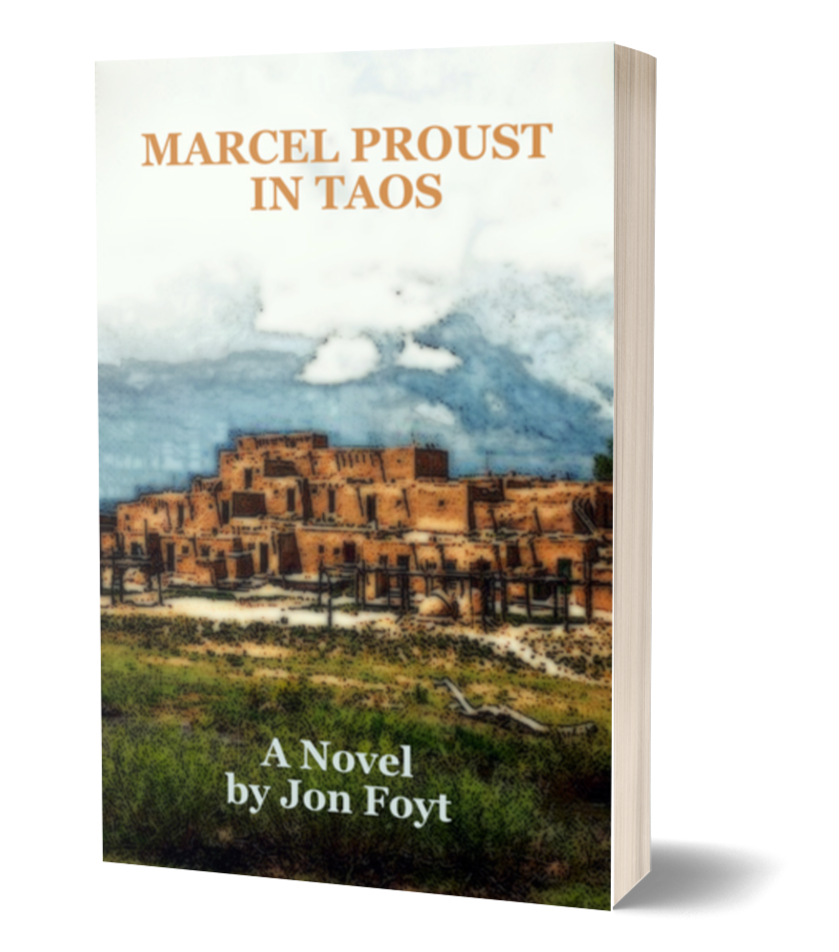 Marcel Proust in Taos
A Los Alamos physicist, Christopher, retires to Taos, New Mexico to write a novel about nuclear terrorism. There he meets aspiring artist Marlene, and the two fall in love. Together they open a microbrewery and find themselves confronting terrorism of a new sort-in unmapped emotional territory.Part of the Retirement Life collection by Jon Foyt.
•
"An often intriguing story of two unconventional characters with a surprise or two along the way." —Kirkus Reviews
↩ Back to view all books
---
Novels By Lois and Jon Foyt
Jon has published a number of books under his own name, as well as this collection written jointly with his late wife Lois: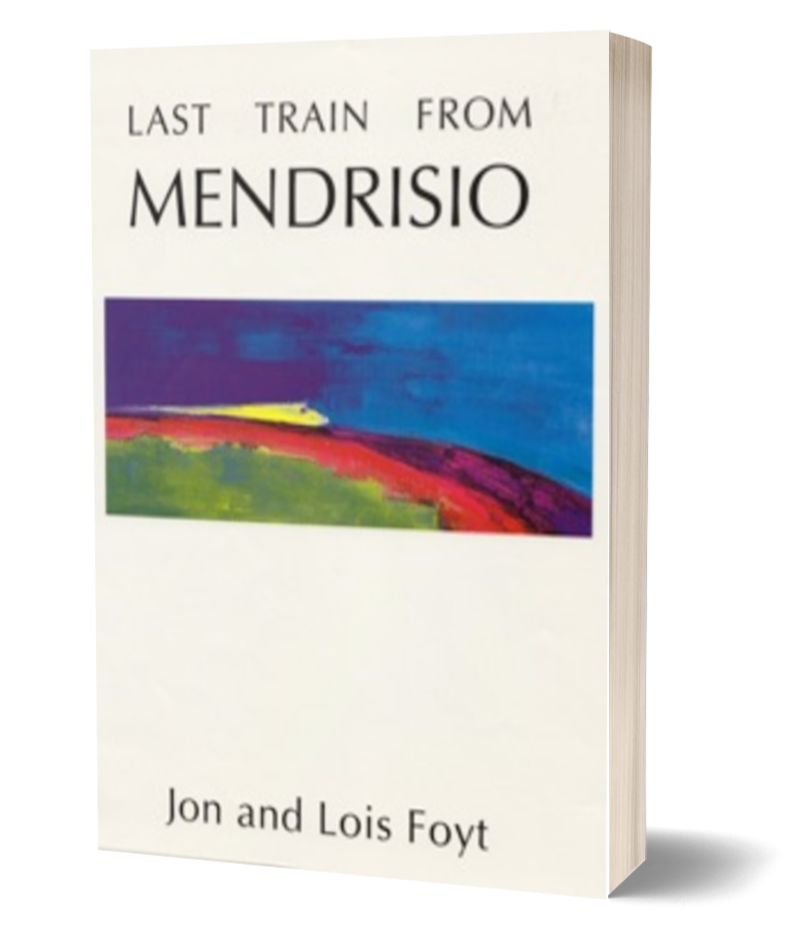 Last Train from Mendrisio
Are Caribbean offshore trusts hiding U.S. wealth? Was billionaire Trevor Thomson killed in a mysterious fall from a Swiss train, did he jump, did he suffer a heart attack…or was he pushed? The answer is critical for Trevor's stepson, Sam, a history professor in New Mexico and high-powered, beautiful Felicia, allegedly fathered by Trevor. Enter attorneys, bankers, trustees and even the Mafia.The novel's distinctly playful and tongue-in-cheek feel and the taut, snappy dialogue that the authors give to the range of credible and interesting characters is very much in keeping with the bold, sweeping style of the piece.
•
"There are a number of reasons why this book succeeds. Like all good writing, the authors know their subject. They obviously have traveled extensively, and their descriptions are detailed and accurate. They also realistically portray various dialects, from Swiss to Caribbean. The art that they bring to this book, however, revolves around their ability to tell a good story, with interesting characters, while maintaining dramatic tension. Their foreshadowing, irony, and use of double entendre is also quite nice." —Winning Strategies
↩ Back to view all books
---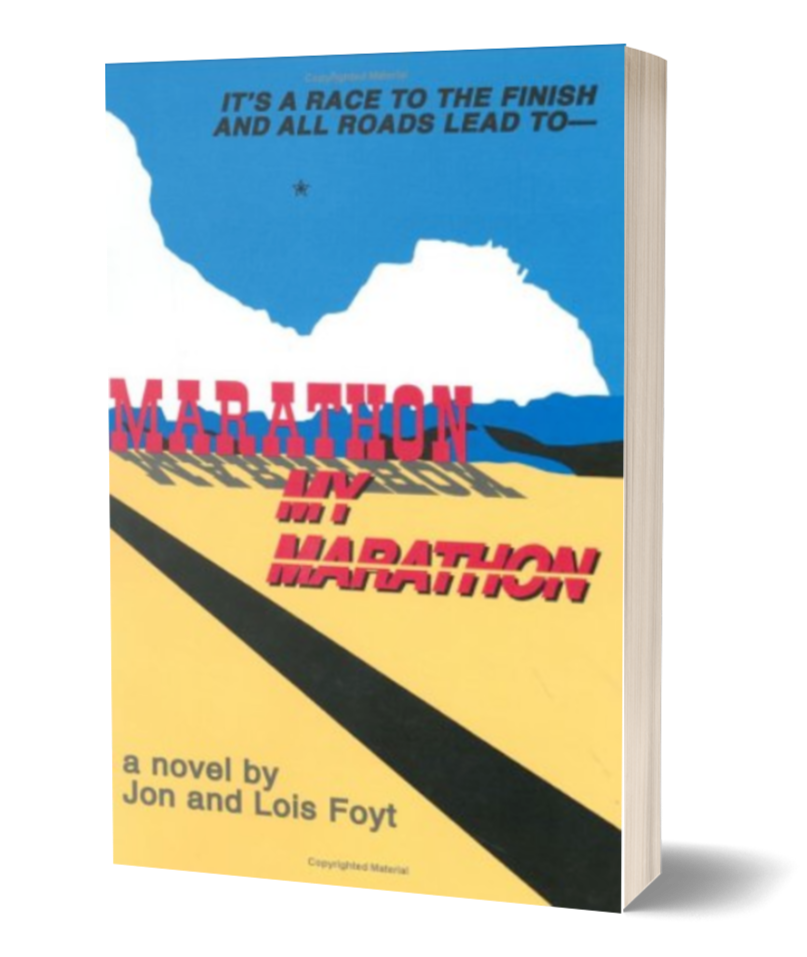 Marathon, My Marathon
A Novel
The modern sport of running is crawling with history--from the first recorded race in 776 B.C. to the revival of the modern Olympic Games in Athens twenty-seven centuries later in 1896. Now, in 1996, at the start of a most unique marathon, Sea Captain Albion E. Shepard, the mystical overseer of this Texas-sized fable, Marathon, My Marathon, personalizes the cliometrics of present-day questions which confront the competitors gathering in the remote West Texas town of Marathon.Lawrence Masterson, his career path aborted in an IBM downsizing, bounces back with a plan to elevate this little town from obscurity to an autonomous city-state for the twenty-first century A.D. Cotton, an Olympic runner and world-renowned sculptor, second guesses her decision years ago to give up her baby for adoption. Together, they wonder if their romance, which has developed as swiftly as Texas lightning, will be a long-run commitment. But Burley, the trucker carrying an apocalyptic cargo, threatens their dreams as the story's hilly course winds through the vast Southwest landscape.
•
"Not your typical marathon book. The authors have produced an unlikely strange mix of history, Greek mythology, and Western folklore with athletic competition and warnings of environmental cataclysm." —The Running Journal
↩ Back to view all books
---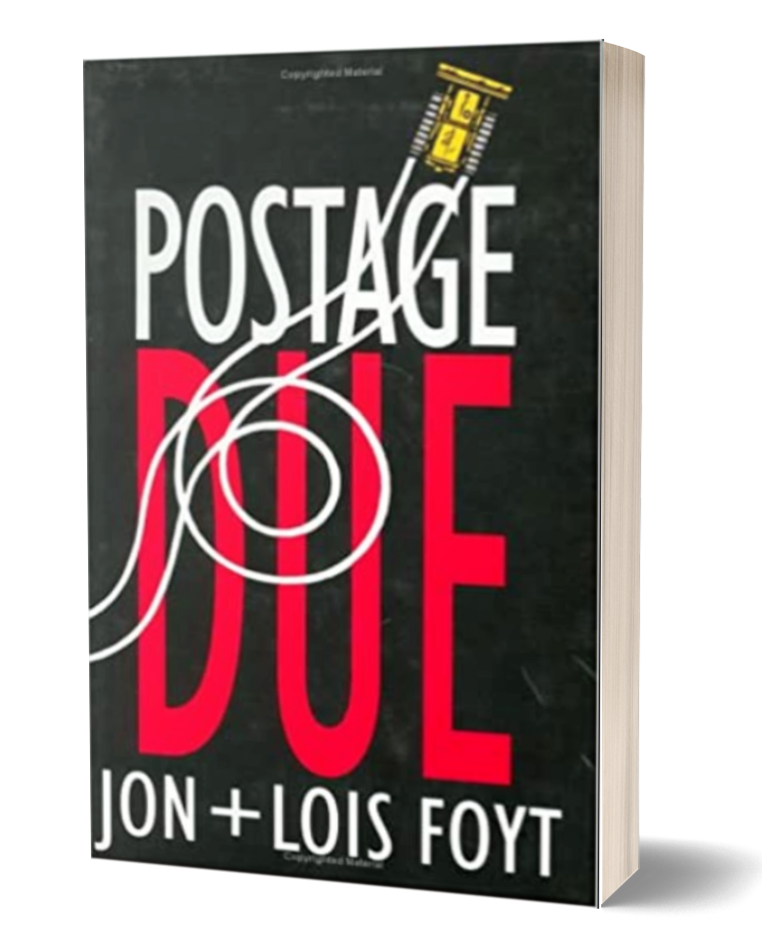 Postage Due
Young American millionaire Toledo Squires has a goal of assembling a team of experts who will transform Albania into a twenty-first century capitalist free market.Having sold his mutual fund analysis company to America's largest brokerage firm, he feels that for him it's "pay-back" time to society, and so he chooses Albania on which to bestow his altruistic Yankee know-how.Yet this multi-layered roller-coaster of a novel spanning the high desert of New Mexico to the cities of London, San Francisco, Santa Barbara, and Tirana carries a tender humorous edge. It's also the story of Toledo's grandmother, Grace Templeton - it's her tale of autumnal love in a retirement home where the octogenarian inhabitants are more at home around the poker table than in any communal dining room. And in a denouement of the most ironic kind, it is Grace who is swept along by this wave of idealism and transformed from the queen of the cards to the Queen of Albania.
•
"Postage Due is the story about the power of dreams. Not the unconscious dreams of sleep, but the waking dreams that can give direction to our lives, motivate our actions, and -- if we are lucky -- help us fulfill our destiny." —Grand Times.
↩ Back to view all books
---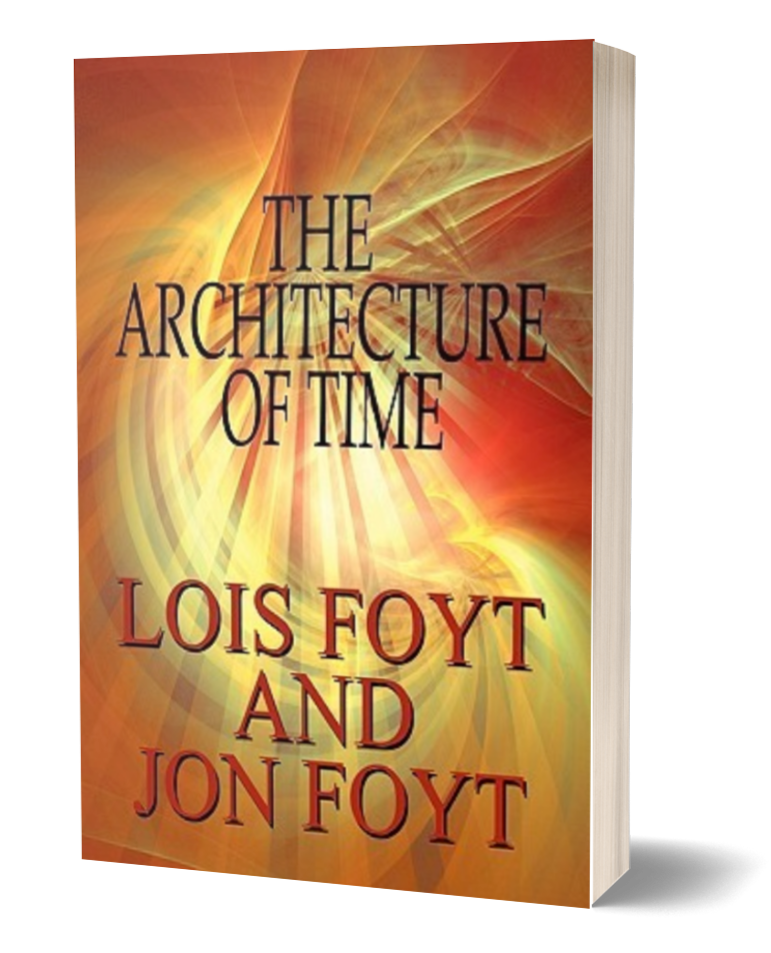 The Architecture of Time
Worthington Rhodes, the powerful man behind the 21st century trans-continental bullet train, competes with equally-strong and charismatic woman archaeologist, Anna Ardmore, who strives to save her Southwest prehistoric Anasazi Pueblo ruins that lie in the train's wide right-of-way.
•
"This reviewer was captivated by the vivid setting, dramatic plot, and fascinating characters...a well-crafted book." —Royal City News, Santa Fe, New Mexico
↩ Back to view all books
---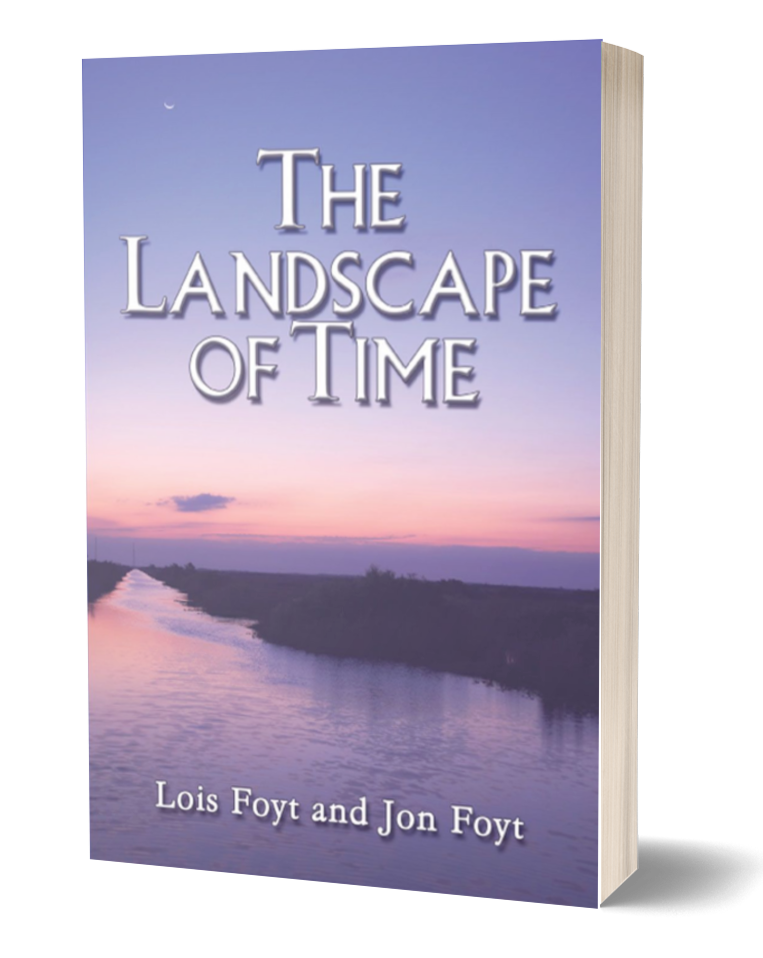 The Landscape of Time
You'll cheer Millennials Josh Foreman and Maggie Sullivan as they put their heads together with African-American Ollie Davis—a protégé of the Civil Rights Movement—to remedy a modern malfeasance by staging a cooked poker game with the wrongdoer, who was bent on tarnishing the reputation of Josh's grandfather along with the family's legacy dating back to the early days of the Erie Canal.
•
"One comes away from this novel wanting to climb aboard a packet boat on the Erie Canal and float across Upstate New York to contemplate the meaning of life, love and the pursuit of happiness." —Stanley Wiseman, Editor, Millennium News Service
↩ Back to view all books
---
The Portrait of Time
Come to Trinidad, Colorado to witness the triptych of Natural Law, Religion and Eternal Love as a Zuni Pueblo artist vies with a cyberspace evangelist for one woman's womb.Whose 2018 manifesto decreed the Indian War of Words? Who masterminded the Indian Casino Massacre of 2048? Who will take command in 2084?
↩ Back to view all books
---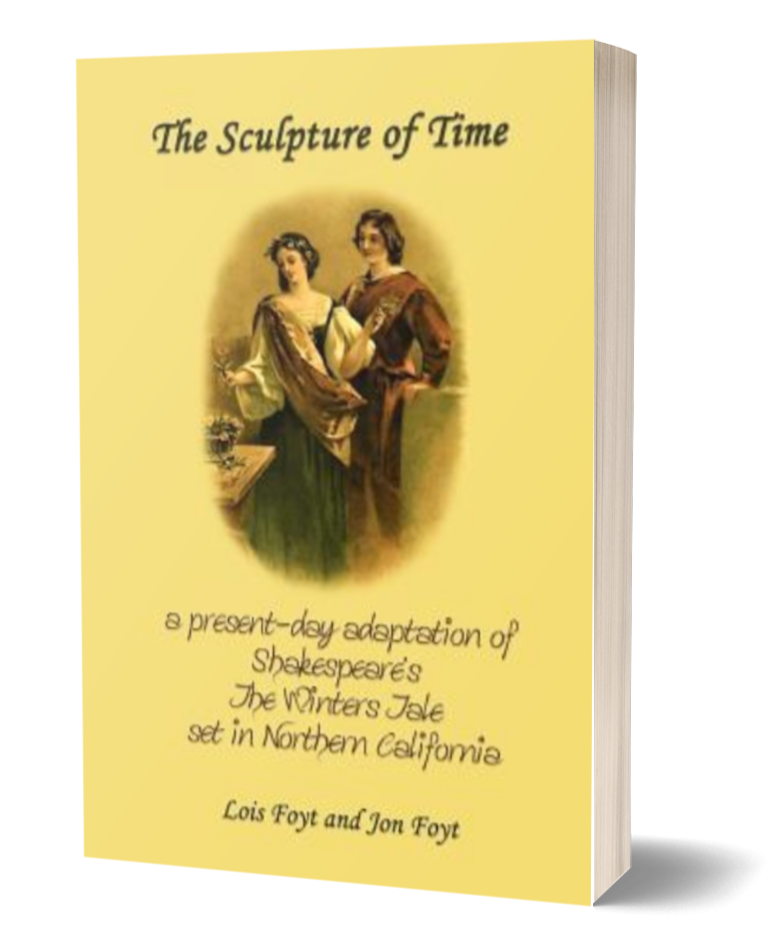 The Sculpture of Time
A Present-Day Adaptation of Shakespeare's the Winters Tale
Our ninth novel is a 21st century adaptation of Shakespeare's The Winters Tale set in present-day Northern California, specifically in the exclusive Bohemian Club in San Francisco and in the equally exclusive Bohemian Grove in Monte Rio 70 miles to the north on the banks of the Russian River.
↩ Back to view all books
---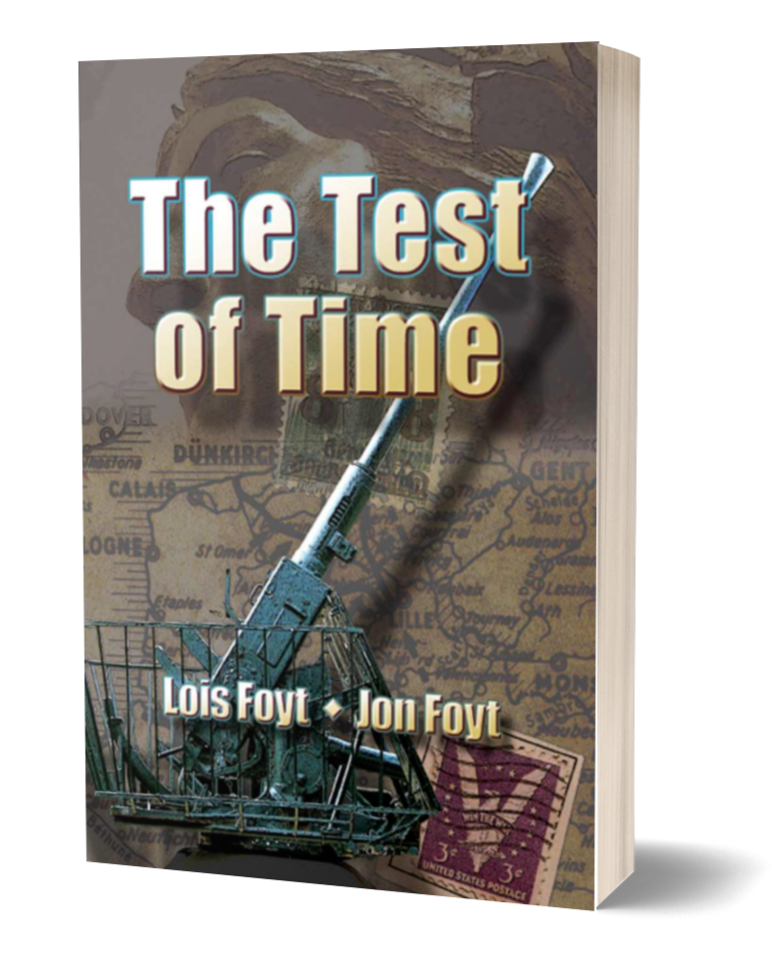 The Test of Time
A human tale about a fictional woman possessing no less emotion than a real-life person living through the decades of the '30s to the '70s. This faux biography follows the literary tradition of extracting the essence—the charm and drama, the historical and philosophical meaning—of the character's life. Four themes weave through this work:Birth—Betty's real mother gives her up to the socially-prominent wife of her father. Repeating this birth-mother role for her English lover, Betty feels torn between a perceived obligation to her aging father and her own moral obligation.War—Three generations of a family are caught up in the philosophical arguments for and against The Great War, World War II and Vietnam.Marriage—Under the duress of wartime, Betty's father and then Betty jump into hasty marriages only to witness the moral decay of their respective spouses.Money—Betty's father's inventiveness and her deportment challenge the envelope of business ethics."
↩ Back to view all books
---
Here are the latest releases by Jon Foyt:
New Release
Retirement
Living It and Writing About It
This writing, offering among other things, some fictionalized stories, most based on actual events, addresses some of the diverse thoughts, emotions, and viewpoints accompanying aging, as well as thoughts on retirement and reflections on lifestyles.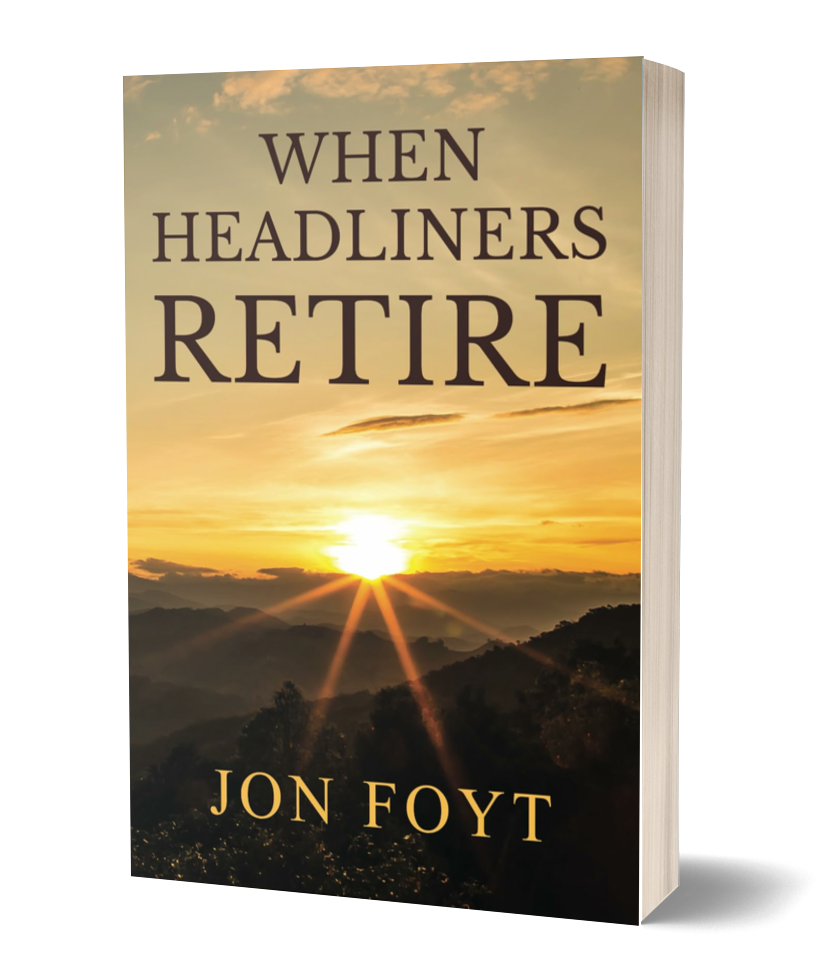 An Octogenarian Reflects
A selection of Jon Foyt's articles appearing in the Progressive View section of the weekly Rossmoor News, from 2011 through 2021. Titles include:
On Becoming 80

The Many Ways We Can Read American History

How Do We Think?

Spin Your Moral Compass

What is Your Favorite Decade?
...and more.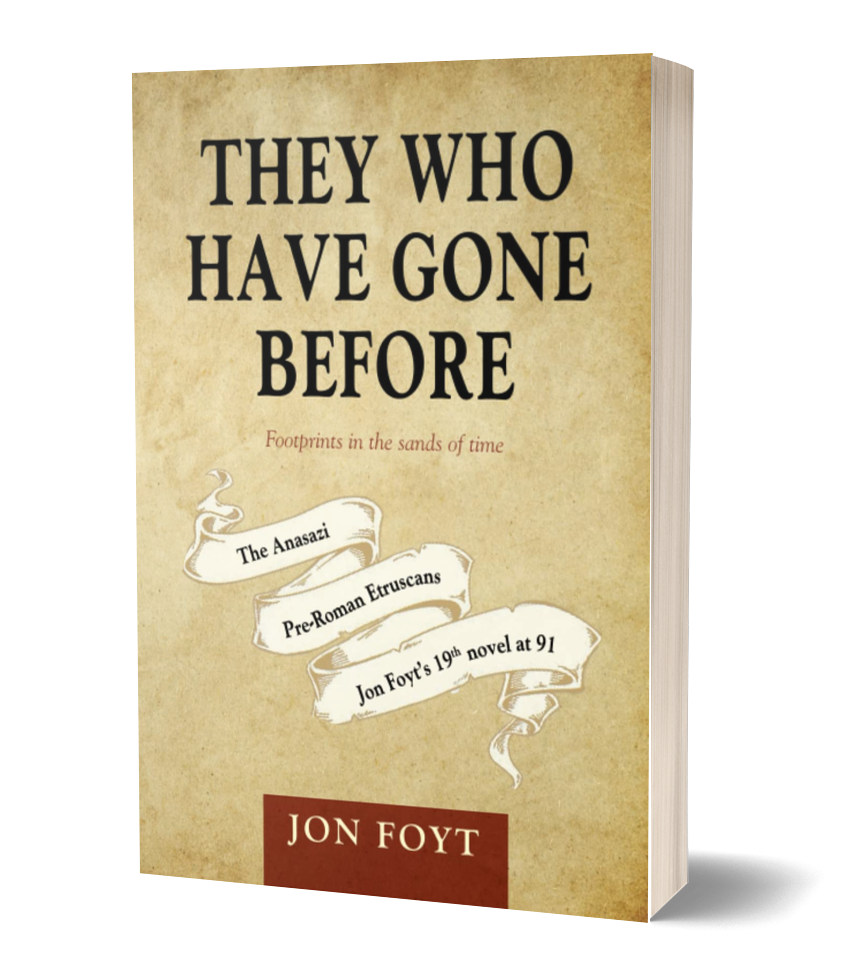 "
"Go into the arts. The arts are not a way to make a living. Practicing an art is a way to make your soul grow. Tell stories. Write a poem to a friend, even a lousy poem. Do it as well as you possibly can. You will get an enormous reward. You will have created something."
~ American Novelist Kurt Vonnegut
---
Contact Jon for signed copies, or to be notified when future books are released:
Ever since I was a little tyke in Indiana, I wanted to write.
First came Stanford, an MBA, the Korean War's two years in Military Intelligence, an adventure into radio broadcasting, followed by my banking career, and then building homes and apartments in Oregon and California.At the next bifurcation in life, I chose to begin writing novels, living in Manhattan, wintering on the Coast of Maine, then La Jolla, Georgia (a master's program at the University of Georgia in Historic Preservation), Mississippi, New Orleans, Santa Fe, and Colorado.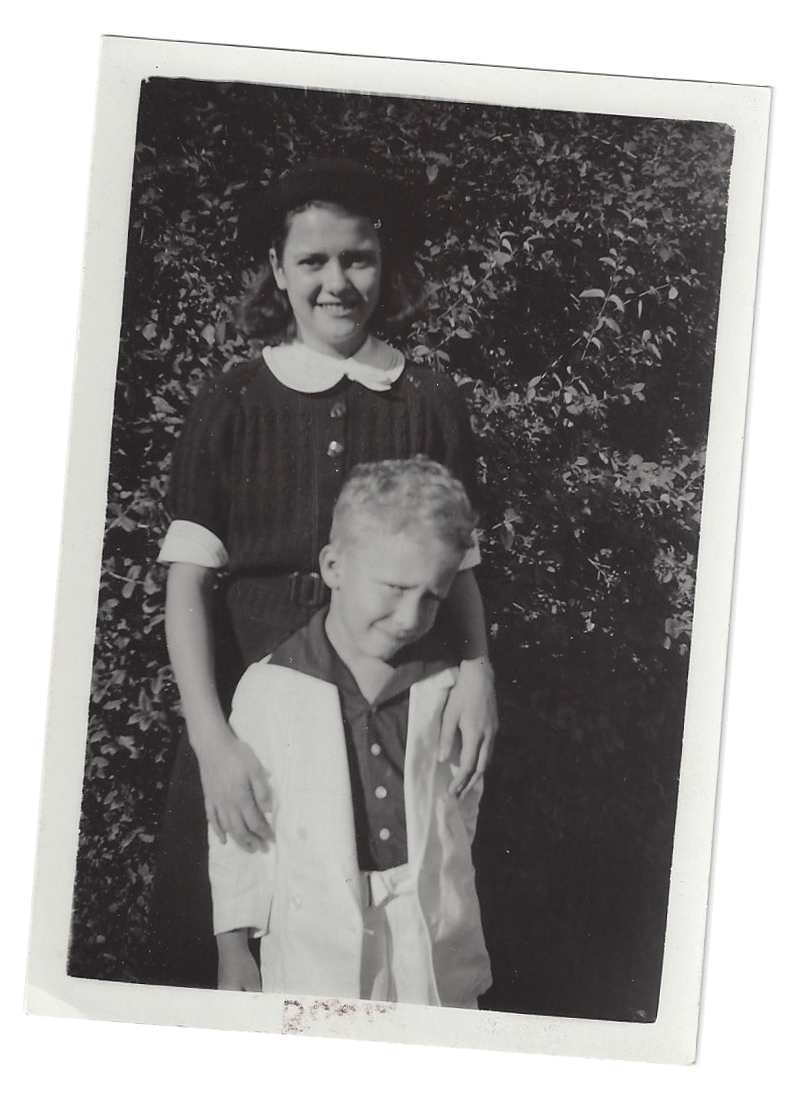 Indianapolis, circa 1939, with cousin Mary Ann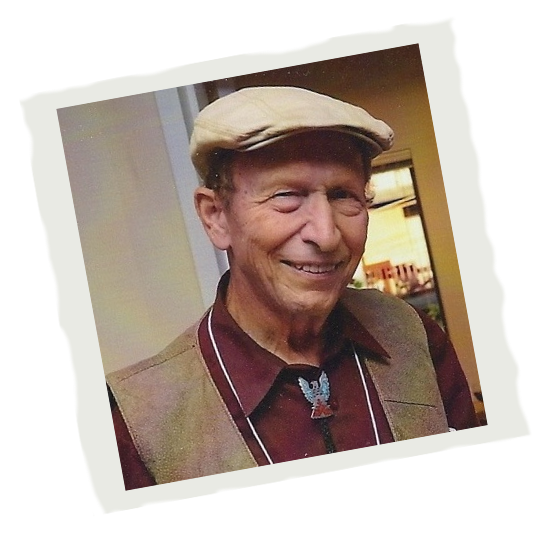 Jon Foyt, present day
With my late wife Lois joining in following her degree in Feminist Studies at Stanford, we collaborated, experiencing the daily back and forth banter and ideas of composing eight novels. She passed away in 2011.Now at age 89, having run 60 marathons and living in an active adult retirement community, and with another ten books of fiction, in which my characters stress imagination, creativity, and experimentation—older males living and coping with retirement—the new genre of Old Adult, says Kirkus Reviews.The Third Half of Our Lives was nominated for the National Book Award in Fiction.